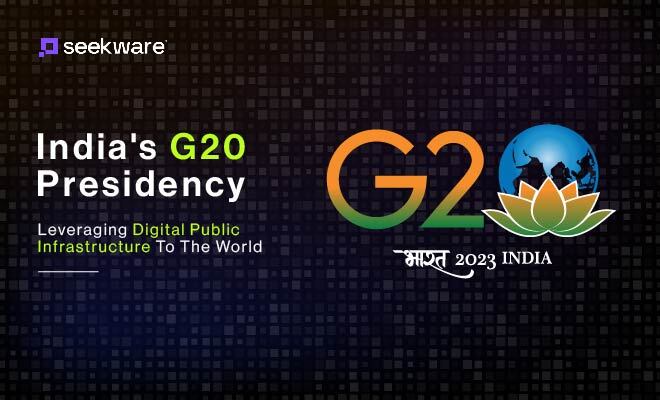 Introduction
The G20 summit is always a much-anticipated event, where major world economies come together to discuss, negotiate, and strategize on global economic policies. This year, with India holding the presidency, the theme of the G-20 summit in 2023 was "One Earth, One Family, One Future." The Indian Presidency focused on Lifestyle for Environment (LiFe) with an emphasis on environmental sustainability, aiming to achieve a greener and bluer future. The Working Groups focused on agriculture, anti-corruption, culture, digital economy, disaster risk reduction, development, education, employment, environment & climate sustainability, energy transitions, health, trade & investment, and tourism.
This year, the technology regulations successfully grappled with a consensus, amid the diverging views over the Ukraine conflict. Given the rapid pace at which technology is transforming global economies and societies, the G-20 Declaration brought attention to building safety, security, resilience, and trust in the digital economy.
Digital Public Infrastructure For Service Delivery
On one of the six agendas, "Technological Transformation and Digital Public Infrastructure", the declaration observed that technology can facilitate rapid transformations to link the existing digital divides and advance progress for inclusive and sustainable development.
Digital Public Infrastructures are technology-enabled interoperable, open, and inclusive platforms that deliver essential, societal-wide, public, and private services that play a critical role in driving this inclusive digital revolution.
The declaration talked about harnessing AI responsibly for "Good and for All." Recognizing the role of DPI (Digital Public Infrastructure) in the delivery of services, it stated, "To unlock the full potential of AI, equitably share its benefits, and mitigate risks, we will work together to promote international cooperation and further discussions on international governance for AI."
DPI endeavored to share information on how to use AI to support solutions in the digital economy. It stated, "We endeavor to leverage AI for the public good by solving challenges in a responsible, inclusive, and human-centric manner while protecting people's rights and safety. To ensure responsible AI development, deployment and use, the protection of human rights, transparency and explainability, fairness, accountability, regulation, safety, appropriate human oversight, ethics, biases, privacy, and data protection must be addressed."
Under India's Presidency, the declaration welcomed India's proposal of the One Future Alliance (OFA), a voluntary initiative to build capacity and provide technical assistance and sufficient funding support to implement DPI in low, and middle-income countries. A digital economy that is enabling, inclusive, open, fair, non-discriminatory, and safe is becoming increasingly important for all governments and stakeholders while adhering to existing legal frameworks.
Final Thoughts
The G20 summit, under India's presidency, presented an unparalleled opportunity to set the narrative for global tech regulations. As technology continues to shape the world's economic and social fabric, these discussions aren't just timely; they're essential. By spearheading conversations on these key areas, India can help lay the groundwork for a more connected, secure, and ethically regulated tech-driven world.
The Declaration agreed to use all available digital tools and technology to build secure and robust digital ecosystems, as well as to ensure that every person in the world is financially integrated. It also pledged to use digital technology to conserve and promote culture and cultural heritage, as well as to establish digital frameworks for cultural and creative sectors and enterprises.
Furthermore, businesses can navigate the complex landscape of technology and drive innovation, ultimately paving the way for a more decentralized and digitally transformed future.
At Seekware, we provide a tamper-proof way of storing and sharing data and empower your business. With 9+ years of expertise in providing unmatched technical solutions, we deliver high-quality solutions tailored specifically for your business. Additionally, we provide clients empowerment, knowledge, awareness, access, and community by simplifying complex work and making their day-to-day operations simple and time-effective.