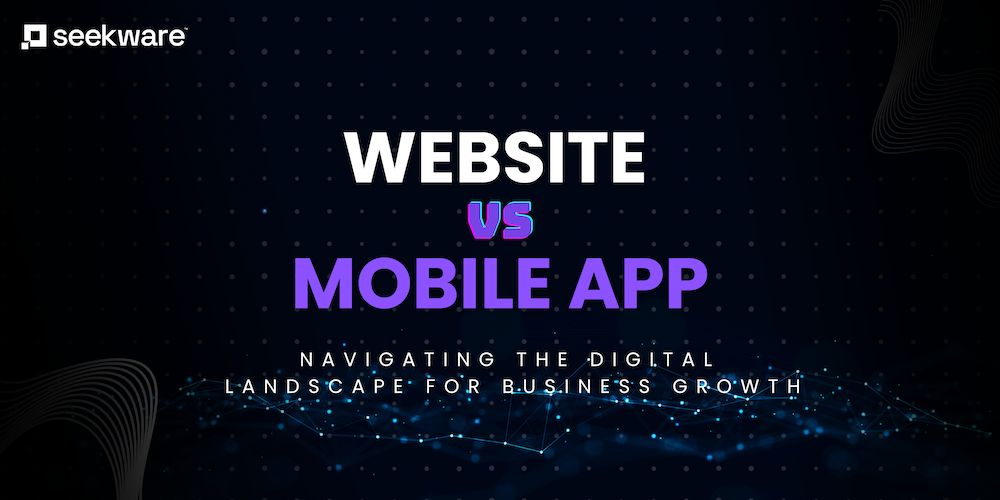 In the swiftly evolving digital realm, businesses grapple with a pivotal decision – whether to invest in a website, a mobile app, or a strategic combination of both. This critical choice holds the potential to significantly influence a brand's reach, user engagement, and overall success online. This guide delves into the intricacies of websites and mobile apps, offering insights to empower your decision-making process for your business.
Websites: The Backbone of Online Presence
A website stands as the virtual embodiment of your business, serving as a centralized hub for information, services, and products. Key aspects to consider include:
Pros of Websites:
Universal Accessibility: Websites boast universal accessibility through various browsers on diverse devices, ensuring content reaches a wide audience without the need for platform-specific development.
Cost-Effectiveness: The development and maintenance of a website often prove more cost-effective than crafting a mobile app. Given their broader reach, websites emerge as an economical choice, especially for businesses initiating their online presence.
SEO Friendliness: Websites naturally lend themselves to search engine optimization (SEO), with search engines indexing web pages to enhance visibility and search rankings – a crucial element for online success.
Cons of Websites:
Limited Device Integration: Despite their universal accessibility, websites may lack certain features inherent to dedicated mobile apps, such as push notifications and device-specific functionalities.
Dependency on Internet: Websites rely on an internet connection for real-time updates and functionality. Limited offline access poses potential drawbacks in specific scenarios.
Mobile Apps: Elevating User Experience
Mobile apps offer a tailored, interactive experience, playing a pivotal role in cultivating customer loyalty. Here's a closer look at the strengths and weaknesses of mobile apps:
Pros of Mobile Apps:
Enhanced User Experience: Mobile apps deliver a seamless, optimized experience tailored to the user's device, fostering higher engagement and satisfaction.
Offline Functionality: In contrast to websites, many mobile apps offer functionalities even when offline. This proves advantageous for users in areas with limited internet connectivity.
Push Notifications: Apps facilitate direct communication with users through push notifications, a potent tool for marketing, updates, and user engagement.
Cons of Mobile Apps:
Development Costs: Constructing and maintaining a mobile app can be pricier than managing a website. Additionally, apps necessitate regular updates to stay compatible with evolving mobile operating systems.
Platform Dependence: Mobile apps require separate development for different platforms (iOS, Android), amplifying development time and costs.
Strategic Decision-Making: Website, Mobile App, or Both?
The decision between a website and a mobile app should align with your business goals, target audience, and the nature of your products or services. Consider the following critical factors:
Target Audience: If your audience predominantly utilizes mobile devices and craves a personalized, interactive experience, a mobile app may be advantageous. For a broader audience, a responsive website might serve as the optimal starting point.
Budget Constraints: Account for budget constraints. Websites, generally more cost-effective, present a viable option for businesses in their early stages or with limited resources.
Functionality Requirements: Assess the functionalities your business demands. If features like offline access, push notifications, or device-specific capabilities are critical, a mobile app might be imperative.
Online Visibility: A well-optimized website is essential for maximum online visibility. If your objective is to attract a wide audience and be easily discoverable through search engines, prioritize website development.
In conclusion, the choice between a website and a mobile app hinges on various factors. Many businesses find success in having both to cater to a diverse audience. Understanding your audience, business objectives, and the unique advantages each platform offers is key. By strategically leveraging the strengths of websites and mobile apps, you can create a robust online presence propelling your business to new heights.
For tailored software solutions, Seekware, a leading Software Consulting Company, offers comprehensive Website and Mobile App Development services. Contact us today to embark on your digital journey. Email: sales@seekware.in